About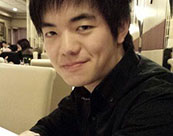 About me
Hey, I'm Zhi Kang. I'm a freelance game developer living in the Netherlands. I have a master's degree cum laude in computer science, specialization game and media technology. Right now I'm working as a contractor on various Unreal Engine 4 projects.
My interests1231
Gaming
I play my games on Wii, PS3 and the PC. I enjoy many games ranging from first person shooters (FPS) to Japanese role playing games (JRPG). My list of favorite games includes the Zelda series, Persona 3, Half-Life 2, Dark Souls and Dota 2.
Game development
I found out early that I liked getting things to move on a screen. Combine that with a love for gaming and game development naturally became a passion of mine. One aspect of game development that I'm very interested in is how to get people immersed in the virtual world, be it through story telling, interesting characters or a brilliant atmosphere. I believe games can provide enriching experiences, much like books and film can.
Music
I enjoy listening to music. My musical tastes include progressive rock, liquid drum and bass, melodic death metal, J-pop and K-pop. Some of my favorite artists are Porcupine Tree, The Who and Lana Del Rey.
Boxing
I'm a fan of Manny Pacquiao and the late Joe Frazier.
Currently playing
Advance Wars: Dark Conflict
Dark Souls: Prepare to Die
FFXIV: A Realm Reborn
PAYDAY 2
Dota 2
FEZ