About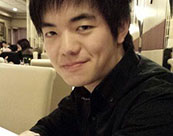 About me
Hey, I'm Zhi Kang. I'm a freelance game developer living in the Netherlands. I have a master's degree cum laude in Computer Science with specialization Game and Media Technology. Right now I'm working as lead programmer for Gunpowder Games on the game Maelstrom.
My interests
Gaming
I play my games on PC, PS4 and Nintendo Switch. I enjoy games ranging from shooters, turn based strategy, MOBAs and JRPGs. My list of favorite games include Half-Life 2, Dark Souls, Dota 2, Persona 3+4 and Monster Hunter: World. I also like story driven games like Life is Strange and The Longest Journey from time to time.
Game development
I specialize in Unreal Engine 4 game development in C++. Within that field my strengths are software architecture, networking, gameplay systems, AI and UI. Unreal Engine is open source, so if there is an engine bug you can fix it. When a feature is missing, you can make it. I have contributed multiple bug fixes to the Unreal Engine master repo. I've accumulated 6 years of professional UE4 experience and 2 years in Unity.
Music
I enjoy listening to music. My musical tastes include progressive rock, melodic death metal, K-pop, Japanese city pop and future bass. My favorite artists are Porcupine Tree, The Who and Lana Del Rey.
Boxing
I'm a fan of Manny Pacquiao and the late Joe Frazier.
Currently playing
Animal Crossing: New Horizons
Valorant
Risk of Rain 2
Monster Hunter: World
Dreamfall: Chapters